Under the influence of the sharp rise of the dollar and the new anti-Russian sanctions, the Russian electronics market was in serious turmoil. Some stores even suspended their work. Others began randomly changing price tags. In just a few days, individual items doubled in price, many products completely disappeared from sale, which were actively used by "gray" retailers. What is happening in the market now and what is the best way for a buyer to behave?
The iPhone has risen in price by 50 percent

Apple Corporation announced the suspension of equipment sales in Russia on March 1. The statement said the measure was taken in response to the launch of a military operation in Ukraine. "We have stopped selling in Russia," a company spokesman said. Exports of Apple products have also stopped. After that, the official reseller of the company, re: Store, temporarily closed its stores.
By the end of the first week of March, the Re: Store was open, but with reduced variety and significantly higher prices.
– Of the 13 iPhones (the latest series), we have only two options available – with 256 and 512 gigabytes of memory. The first costs 135 thousand rubles, the second – 165 thousand, – said the seller of the capital's living room in Zemlyanoy Val Andrei.
Apple Corporation announced the suspension of sales in Russia and deliveries on March 1.Photo: Evgeniy Sofiychuk / AP / TASS
Before the suspension of sales, these models cost 90 and 110 thousand rubles, respectively. According to the seller, a similar situation is now observed in all the stores of the chain. According to him, other models will appear, but it is not known when and at what price. The prices listed on the site marked "coming soon" will also be revised upwards. There are currently no pre-orders or deliveries. In other networks, not all models are sold at very high prices.
Sellers looking for solutions

The situation with the "apple" smartphones is similar in the regions. At one of Apple's oldest hardware stores operating in the Urals market for 12 years, Octagon was informed that all stocks of both Russian-certified models, as well as European and American models, have now run out of stock. but deliveries will continue.
– Of course, you do not have to wait for the Rostest models, but European and American phones will be available – now we have a lot going to the area and we will be in the store until the holidays. Another question is that the price is still unclear – the exchange rate jumps a lot, so there will be no fixed prices. Many pre-orders have already been received, so the whole batch will probably be sold out quickly, the sales office explained.
The company noted that the European partners themselves are in a difficult position – Apple products have also risen in price there.
– Suppliers do not really want to lose such a large sales market as Russia. "I do not rule out that those stores that have now suspended sales of non-certified phones in Russia will look for new supply channels," concluded the source of Octagon, who did not want to be named.
Lining or pumpkin

The variety is much wider in such famous electronics markets as Gorbushka and Savelovsky. However, the price range there is impressive. If in the official store the price of the most expensive iPhone 13 Pro Max (1 terabyte) today is 240 thousand rubles (not available, but the price is listed on the website), then in Gorbushka starts from 300 thousand rubles. Similar prices are set by sellers on private classifieds sites – both resellers and individuals – and often the cost is reported in dollars.
"I'm waiting for a buyer to pay in cash dollars. I think it's a win-win deal. This is an investment for me and the buyer. "Rubles are depreciating, while dollars and iPhones are becoming more expensive."


Nicholas
user "Avito"
At the same time, not everyone today is in a hurry to acquire such an investment tool as a smartphone from Apple, even among the fans of the "apple" brand.
– I was just thinking of changing my old model to a new one, it seems that there is still money, but I am afraid that suddenly Apple will block the service of its phones. And then what? Will my new smartphone turn into a pumpkin? Doubtful investment. "So I'm waiting and considering the option to change to Android," a 35-year-old translator told Octagon. Kindness from Moscow.
According to a well-known Russian technology blogger Valentina Petukova, Apple has the ability to block equipment remotely, but is unlikely to use it. "I do not think such a scenario is possible in principle. It violates many laws. This is an extremely extreme measure. For the company it will be a suicide in the Russian market. "I do not know who will buy her phones after that," he said in one of his videos.
What about the rest of the equipment

According to Petukhov, smartphones based on the Android operating system are in an equally vulnerable position. "In this form (As with Apple products. – t.exclusion is not possible there, but I would not be 100 percent sure. This is also an American system, though open. What is Android (Google), what is Windows (Microsoft). "Everything is at a dead end here, but there is a sense that there is no threat now," he said.
Like Apple smartphones, other phones have begun to disappear from sales in recent days. This is true for all technology. As they told Oktagon in one of the stores of the M.Video chain, the stocks in the warehouses are almost exhausted, many of the copies presented in the kiosks are the last ones and in fact they are scattered with great speed.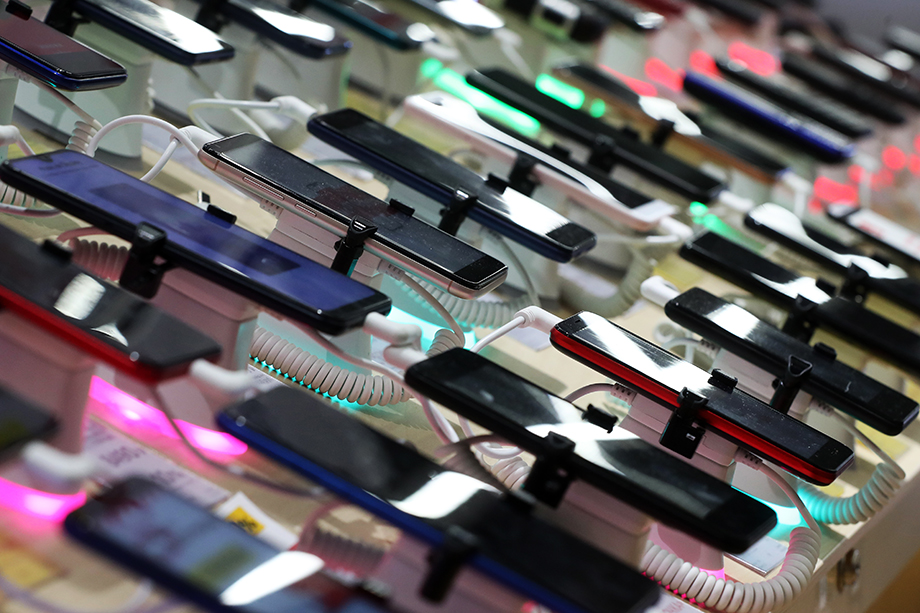 There is a rushing demand in stores: warehouses are running out of smartphones not only for companies that have left Russia.Photo: Vladimir Gerdo / TASS
Some items disappear from the sale and then reappear at outrageous prices.
– My husband and I ordered an Acer laptop on February 28th. In the summer it cost about 37 thousand rubles, the day of the order – 45. They wanted to pay upon receipt. It turned out that due to the current situation, applications are accepted only with full prepayment. At the time of reissue, there were fewer copies and the price went up to 47 thousand. "Nevertheless, they ordered," says the journalist Daria Andreeva. – The next day they re-checked, it was no longer available, plus the price increased to 115 thousand rubles. But, obviously, it was a temporary increase. Now the price has dropped again and is slightly less than 94 thousand rubles.
"Buy today, but not on credit"

The cost of imported equipment will continue to fluctuate under the influence of the exchange rate, although it is unlikely to fall in February prices, experts say. From this point of view, according to them, if the opportunities allow, it makes sense to invest in the equipment market today.
"If you look at the previous crises (1998, 2008 and 2014), we can say that their consequences for consumers were similar. The purchase of electronics, home appliances, cars is completely justified ".


Sergei Litchuk
CEO of the consulting company Retail4you
If this is not done now, tomorrow or later it may become difficult, if not impossible. This is the nature of the crisis. "Prices will go up sharply, incomes will go down," Retail4you, chief executive of the consulting firm, told Octagon. Sergei Litchuk.
For this reason, the expert advises:
– Buy today, tomorrow it will be more expensive or the product will simply disappear.
At the same time, it warns of purchases with credit or debt.
With regard to the partial disappearance of certain goods, experts do not rule out this risk. It is true that, as Valentin Petukhov says, this also poses significant risks to the manufacturers themselves. "It is economically unprofitable to leave the Russian market. Once the normal normal time begins, it will be quite difficult to return to the market. There were many examples, we experienced various crises: both in 1998 and in 2008. Many companies left our market. Adequate return is very expensive. "Therefore, it is actually a one-way ticket," he said.