Large-scale forest fires have been reported in southwestern Siberia in recent weeks. However, not only forests are burning, but also steppes and peat throughout Russia. Many settlements were damaged by fire. According to local media, at least 10 people lost their lives during the fires. In mid-April, the English-language edition of The Siberian Times released a video on social media featuring dramatic footage of forest fires. But DW failed to verify this video.
Meanwhile, in early May, the Russian Ministry of Emergency Situations said that since the start of the 2022 fire season, which has already begun in 77 regions of the country, 4,000 forest fires have been recorded in Russia, which have affected about 270,000 hectares. Most of the fires took place in many areas, such as Krasnoyarsk, Kemerovo, Kurgan, Omsk and Tyumen. In total, since the beginning of the year, more than 138 thousand fires have occurred in Russia – man-made and natural.
Putin has ordered that the fires be kept under control
On May 10, Russian media reported that Russian President Vladimir Putin had met with the governors. He ordered that the situation be monitored personally, stressing that "the heads of the regions are the ones who must take care of extinguishing the fires". "If the situation starts to get out of control, then under no circumstances should these problems be silenced," Putin warned. "We can not allow the situation of last year to be repeated, when the forest fires were the biggest and strongest of all the previous years," the Russian president said at a meeting with governors.
Extinguishing a forest fire in the Tyumen area, May 2022
In 2021, Russia, according to Greenpeace Russia, suffered record damage from fires – 18.8 million hectares of forest, steppes and peatlands burned. This is an area that is approximately equal to the territory of Syria. At the same time, forest fires, and especially peat fires, can be compared to a "climate bomb," say environmentalists. The fact is that burning peat releases huge amounts of carbon dioxide and other harmful substances, much more than during forest fires.
Almost half of the amount of carbon dioxide emitted into the atmosphere comes from peat found along the Arctic Circle, including Siberia. This is a total of about 1 billion tonnes of CO2. Extinguishing burning peat bogs is very difficult.
Are there enough resources to put out the fires?
The Russian Federal Forest Service announced at a press conference in late April that there was an increased level of risk due to forest fires and that it was ready to use helicopters, drones and other equipment to extinguish the fires. In recent years, the Russian Federation has sent military personnel to fight forest fires. However, due to the war with Ukraine, a significant part of the troops and equipment was transferred there.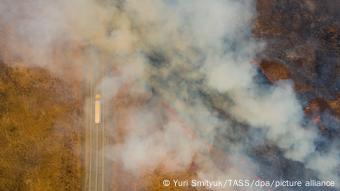 Smoke from forest fires in Primorye, April 2022
Analysts say that is why Russia may not have enough reserves to put out forest fires this year. "It is inevitable that war will not have enough resources to put out forest fires," said Professor Thomas Smith, an environmentalist at the London School of Economics. Monitors the situation from satellite photos.
Max Bergman, director of the European Program at the Center for Strategic and International Studies in Washington, told DW that Russia probably still has enough resources to fight the fires. He noted that in the context of the ongoing war against Ukraine and international sanctions, Moscow is running out of other resources, including financial and logistical support. "One of the challenges that Russia has faced in terms of sanctions and export controls is the lack of helicopters and other equipment, for which Russia has received parts from abroad," Bergman said.
Given that a small part of the spare parts are produced domestically, the expert continues, the priority for repair and maintenance will not be the equipment needed to extinguish forest fires, but the one used in the war against Ukraine.
You will do what you can to put out forest fires
Therefore, according to Smith, forest fires in Siberia will be the next challenge for the Russian authorities, as their army is involved in the war in Ukraine. "Recently, it was obvious that the scale of forest fires in Siberia has increased and there was not enough power to extinguish it even in peacetime. This year, there may be no one to extinguish the forests at all," he added. And this, in his view, is also partly a consequence of the pressure on civil society and environmental organizations.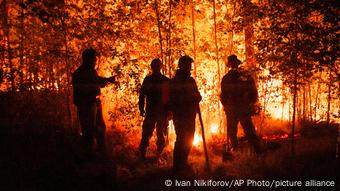 Firefighters extinguish a burning forest west of Yakutsk, August 2021
Although the fires are unlikely to force Russia to direct its forces to extinguish them rather than go to war with Ukraine, the Kremlin may consider it and reconsider its priorities, Bergman does not rule out.
"Putin has two competing goals. The first is geopolitical, as far as Ukraine is concerned. And the second is internal stability. If forest fires reach a critical level and threaten his regime, Putin can set their elimination is his priority ", the specialist of the Center for Strategic and International Studies.
Climate change is making things worse
In 2022, the scale of forest fires in Russia has become catastrophic. The Russian branch of Greenpeace estimated that in the first four months of this year, the area of ​​catastrophic fires was twice as large as in the same period of 2021. At the same time, Greenpeace noted that so far not all fires are included in the official reports.
Forest fires, caused, for example, by storms or spontaneous combustion, are part of the natural cycle in Siberia, a relatively refractory ecosystem that includes many rivers, lakes and swamps, environmentalists say. But global climate change is making this ecosystem drier, increasing the risks. Siberia has severe Arctic winters, but it warms up very quickly there. And the melting of glaciers due to global climate change only reinforces this effect.
"It's still too early to say if fires in southern Siberia are an indicator here, and if the same will happen this season in more northern areas," said Smith of the London School of Economics. a number of other conditions. . "It is important to keep in mind that climate change in the Arctic, with the right weather conditions, increases the risk of forest fires, which can be much more devastating," he said.
See also: