Four thousand kilometers to my wife
– Christ is Risen!
Dear father Michalis!
I want to talk about a lot of things – extremely important.
First, briefly – about our adventures. The start of the special operation found me and Nadya (with my wife – ed.) Just a few kilometers from each other: I was in our apartment in the center of Livoberezhny and Nadya was visiting her mother, who lived across the street. from the third hospital of the city. But with the closure of the Post-bridge (which separates the city and the industrial zone from the Azovstal factory – ed.), We were cut off from each other for a long time.
The last time we spoke was on the phone on March 2, and then a break in three weeks.
The most terrible thing was not the explosions of the shells, but the fact that we knew nothing about the fate of the other.
Nadia and her mother were sitting in the basement in the city center and I, my son and grandson, were in the basement of the second maternity ward on Pashkovsky Street. Our house is only fifty meters from the maternity hospital and my son ran after me a quarter after the first bombing of the house with mines. From the hand, she dragged me to the shelter (my bride worked in the maternity hospital and she was allowed to install me there).
In total, there were about three hundred people in the basement of the maternity hospital. mostly – women who give birth, who have just given birth or are preparing for childbirth. Many children. I will not mention details. We were brutally shot from all sides, the bread was finished in a week, the water – in ten days. There is little left of our house, several neighbors died right in their apartments.
On March 16, Nadia and her mother miraculously managed to leave, but only to the west. and they managed to reach Odessa, where our youngest, Timofey, lives. And on March 23 we could only escape to the east. We spent a week in a tent camp in Bezymenny and then in Novoazovsk. And only at 30 did they cross the border. From there, the eldest son and his family went to Rostov. And I started my trip to Nadia. With a general passport, without a penny of money, with clothes in which he ran out of the house and slept in the basement for three weeks, without undressing and without washing. And I knew I could only get to Nadia by traveling all over Europe.
And then the miracles began. I arrived in Taganrog, where I was able to wash, eat and get some sleep at the refugee center. By train to Krasnodar, and then people I did not know showed up. They gave money for a new SIM card and put a thousand rubles.
A graduate of our 40th school, completely unknown to me, called from Moscow. He himself ordered and paid for my ticket for the Krasnodar-Petersburg train online.
And in St. Petersburg I was met by an acquaintance who ordered and paid for my trip to the Estonian border to a private merchant and said goodbye and put an envelope with euros in my pocket.
In Narva, I was called by Inga, a new acquaintance of Nadia, who said that I should go to Klaipeda via Tallinn, Riga and Vilnius and then we would see. It was my journey of four thousand kilometers. And ten days later, Nadia and her mother came to me in Lithuania, bypassing Lvov and Poland.
I realized that giving up the bag is a sin. This almsgiving must be accepted with gratitude
And now for the main thing. I had a great TV interview here and the reporter asked what helped me survive the bombing. I honestly answered: "Only prayer". Every minute and every second. The constant readiness for death purified the soul and thoughts. At that time I was afraid of only two things – the death of my relatives and my death without repentance and communion.
In Novoazovsk, the first thing I went to the temple. Dirty, overgrown. And the young woman gave me … alms. One hundred rubles. I took them and then cried.
Nadia later said that no one should be ashamed of it. that all my life I gave alms, and now a small fraction returned to me.
I confessed it to Father Sergio, who then spoke to me for a long time. And the next day, March 27, Sunday, I was communing – for the first time after the day of the Three Hierarchs (St. Basil, Gregory the Theologian and John Chrysostom, celebrated on January 30 NS – circa Publ.). After the service, Father Sergios gave me a large bag of groceries and took me to the church shop, where they counted another five hundred rubles for my trip.
About five years ago, my nephew went to work in Germany. And saying goodbye, I told him honestly: "There will be serious problems – find the nearest orthodox church: there you will receive sincere advice." Now I'm in that role myself.
In Klaipeda, I came to the church of All Saints who shone on Russian soil. I was warmly and kindly welcomed. They uproot Mariupol and pray for all of us. After society, I was congratulated – also happy and enlightened. And I remembered your words that we do not come to church "to our temple" and not to "our priest", but to God.
And that is what I will say. Every Lent, I stretch the mosquitoes, carefully following the Typicon: dry food, hot food without oil, etc. Extremely anxious due to the slightest deviation from the dietary rule.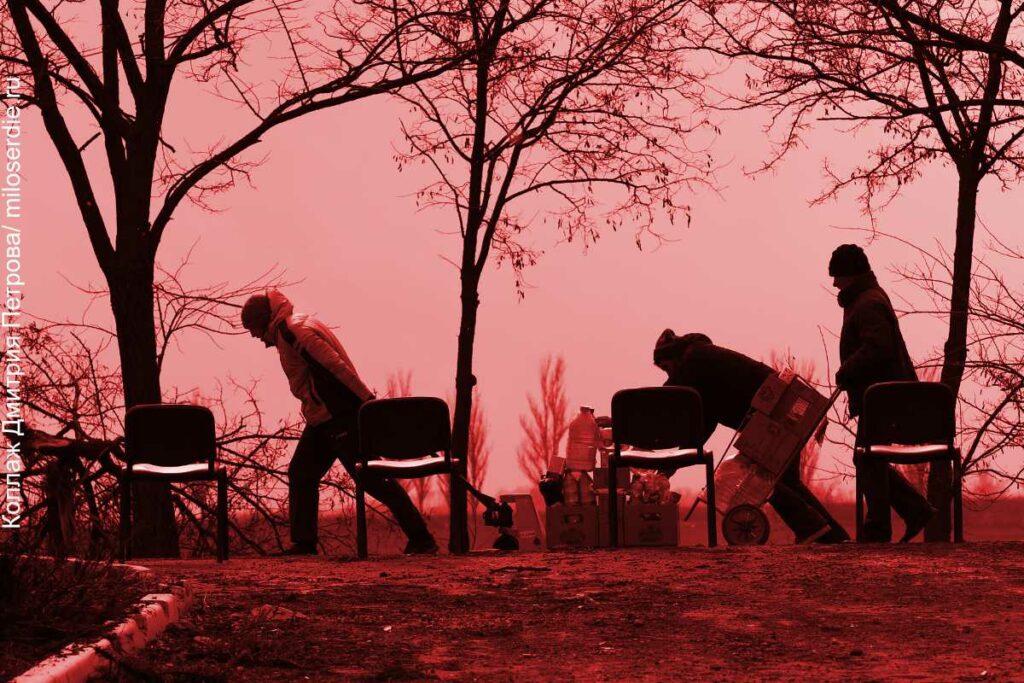 On the fifth of March I ended up in the basement, and on the seventh the fast began. During the fast I was never able to follow the Standard. At best, it was "abstinence from food" due to lack. At worst, a delicious bowl of hot soup with rows of stew or chicken neck joints floating in it.
I read prayers only to myself – in the underground eternal darkness. And I made the first earthly worships of the prayer of Ephraim of Syria only in April, in Lithuania. Typically, this was a complete violation of all the rules of fasting.
But in reality, I realized the most important thing: never in my life has there been such purity of thoughts and desires, such inclusive love for God and those around me in this basement.
And never in my life has there been such a happy Lent. Therefore, I am grateful – no, not to the bombs and bombings, but to the fact that at this awful moment I had seconds of real cleansing, realizing the mistake of my entire previous, seemingly prosperous and just life. because I found quiet peace in need, hunger and constant confidence in the inevitability of an impending death.
I realized that giving up the bag is a sin. This almsgiving must be accepted with gratitude. That it is not embarrassing to wear a jacket or a sweater of your new friends (I found a funny phrase "Pants from someone else's shoulder", and even more fun "Boots from someone else's shoulder"). What is not scary at all in a second to lose everything: housing, property, money. That God's providence always leads me accurately to a good light at the end of a terrible path.
… Now, in Klaipeda, I already have an old computer and am slowly writing a new book – around March 2022. I am writing honestly. And I already know that it is precisely because of the honesty that this book will have no chance of being published in either Ukraine or Russia. But writing it is a matter of my conscience. It may sound pompous, but it's true.
Sorry for the big letter! I know you are a very busy person and now you have more worries than usual. I will always remember that it was you who brought me to the Church, who confessed and communed with me for the first time, who baptized my grandson and made the sacrament of our marriage with Nadia.
There is only a little left – to be honored with an unction, which you will perform on me. So, we will definitely return to Mariupol. And I will come to our church, I will see you and the familiar faces of the parishioners.
Take care of yourself!
VS
Collage by Dmitry Petrov based on photos by ITAR-TASS