The South African Cape made mixed impressions on restaurant columnist Vladimir Gridin. Food that inspires some and confuses others is a matter of debate.
For every rule there is an exception, every trend, no matter how long it lasts, one way or another it ends and fashion proves outdated, ridiculous and ridiculous. It just takes someone brave enough to stand up and announce something new out loud. Strong enough to form a small group of fans behind him, which over time will grow and expand so much that the underdog will become a trendsetter. The new tiny Cape restaurant on Bolshoi Palashevsky Lane has no apparent desire to climb the roadblocks, but has managed to voice its dissent.
Cape is short for Cape Town, South Africa's second largest city. Chefs 'Warehouse chef Liam Tomlin has been successfully opening Chefs' Warehouse restaurants there since 2003. Judging by the fact that there are now five of them, plus a cooking school, he has enough talent for everyone, like Jamie Oliver. Anna and Nikita Tataev, Moscow restaurants that had previously opened the Coba Hand Roll Bar, the Georgian restaurant Tkemali and the karaoke Kadrill, succumbed to Tomlin's charm.
Cape restaurant team
The aura of the ocean, the exotic landscapes and customs, the romance of an extremely long journey – all these things, far from the routine of Moscow life, made them meet Tomlin, invite him as a consultant to open a restaurant and then also send a team of chefs led by Cape Ilya chef for an internship in Pampukha.
The Cape menu is, in fact, Tomlin's ideas and recipes, implemented by Pampukha. As a person who has lived on both sides of the ocean, and even noted from the opposite side (for some time Tomlin lived and worked in Australia, from where he moved to South Africa), he easily juggles whatever you can pick up or try. It causes admiration and horror at the same time. Because the infinity of flavors has no limit. And when you have no limits, it is easy to slip into bad taste.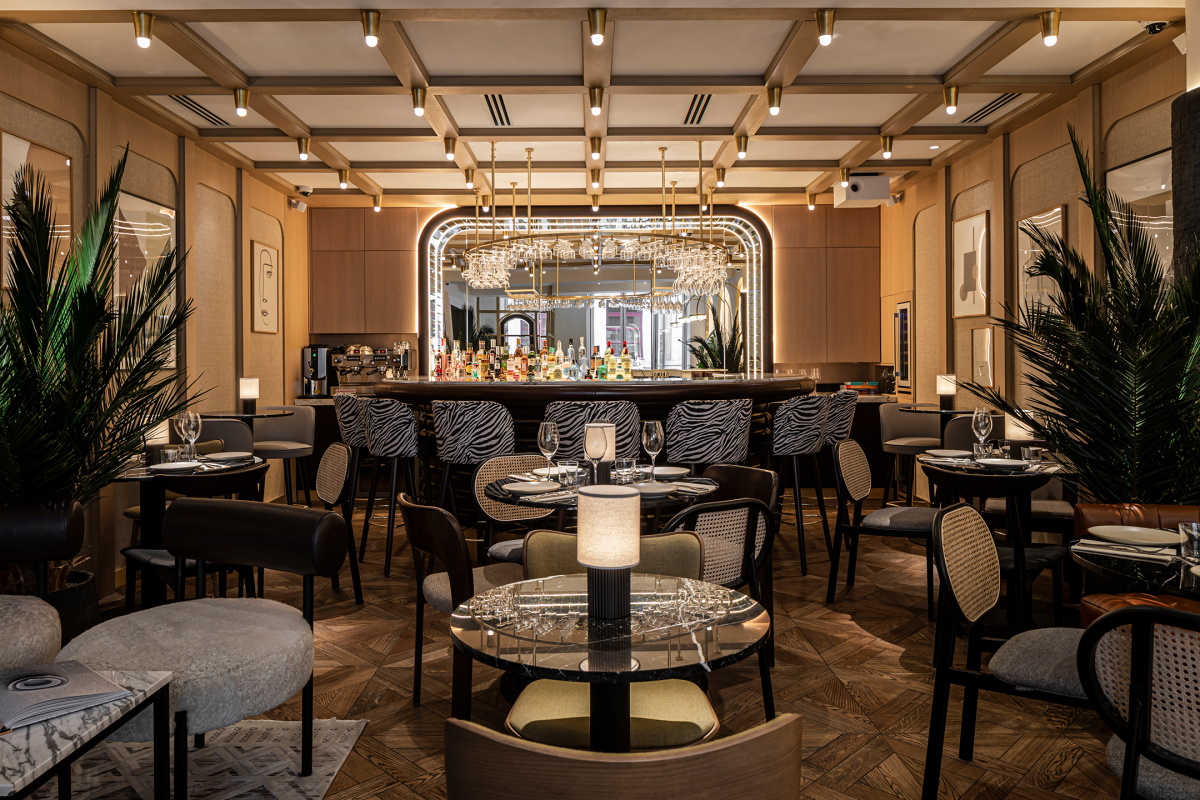 Cape restaurant interior
In Cape, I dined with gastronomy connoisseurs. There was a girl who had gone to South Africa and painted the local way of life and restaurants as well. According to her, the most popular cuisine there is European. Tomlin does not seem to know this at all. Curry, ponzu, chili, unagi sauce, exotic nuts, kimchi, tobiko caviar, shiny spices like ras el hanout, blends of Indian and African spices and rose petals are his usual arsenal.
Dinner started with Namibian oysters, sweets and meats, seasoned with crispy slices of green apple, lime-ginger caviar, a little ras el hanout oil, a slice of jalapeño, a slice of french fries, a slice of chili and a fennel leaf. While I was watching all this, my companions took care of their oysters and I had to catch them. The oyster, looking ahead, turned out to be perhaps the best dish of the evening, despite the dubious involvement of the fried onions.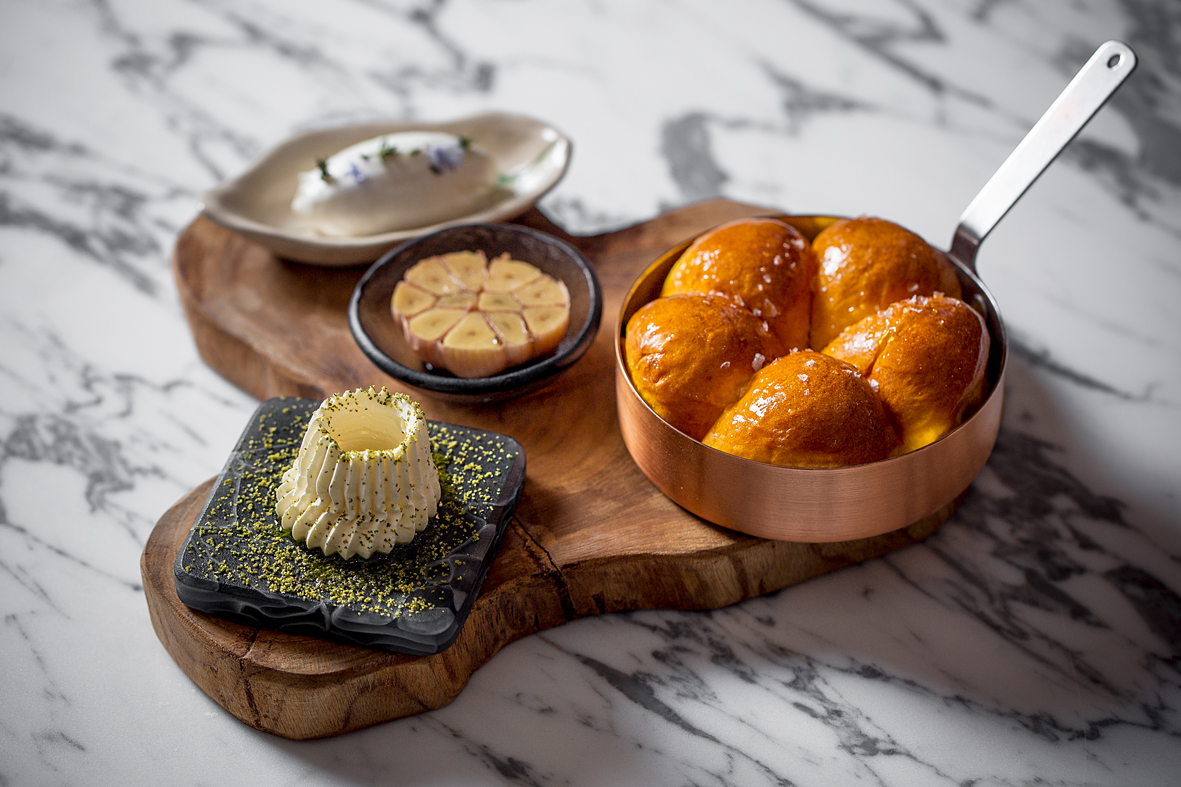 Bread and butter on the cape
By the way, even before the mussels, a rich family of loaves appeared on the table with breads that are easy to separate from each other, with butter and baked garlic (what? Garlic in Patrick?) – these are transported free of charge to all companies. Cape pays close attention to bread and its derivatives – the portions here are small so you can get much faster. The variety also includes rich pretzel (served with tomato and seafood soup) and Indian naans. We were served with ostrich tartare. It is a complex composition of a smooth chicken liver pate, on which pieces of ostrich meat are spread. The dish also contains pieces of chestnuts, fir cones, gorgonzola, gooseberry and juniper caviar (Tomlin seems to have a passion for globulation) and potatoes with rosemary (!). However, the sweet starchy taste of the chestnuts surprised me so much that everything else went by, including the ostrich. Everything together was, no doubt, delicious, but the question "Why complicate it all so much?" seemed on the horizon.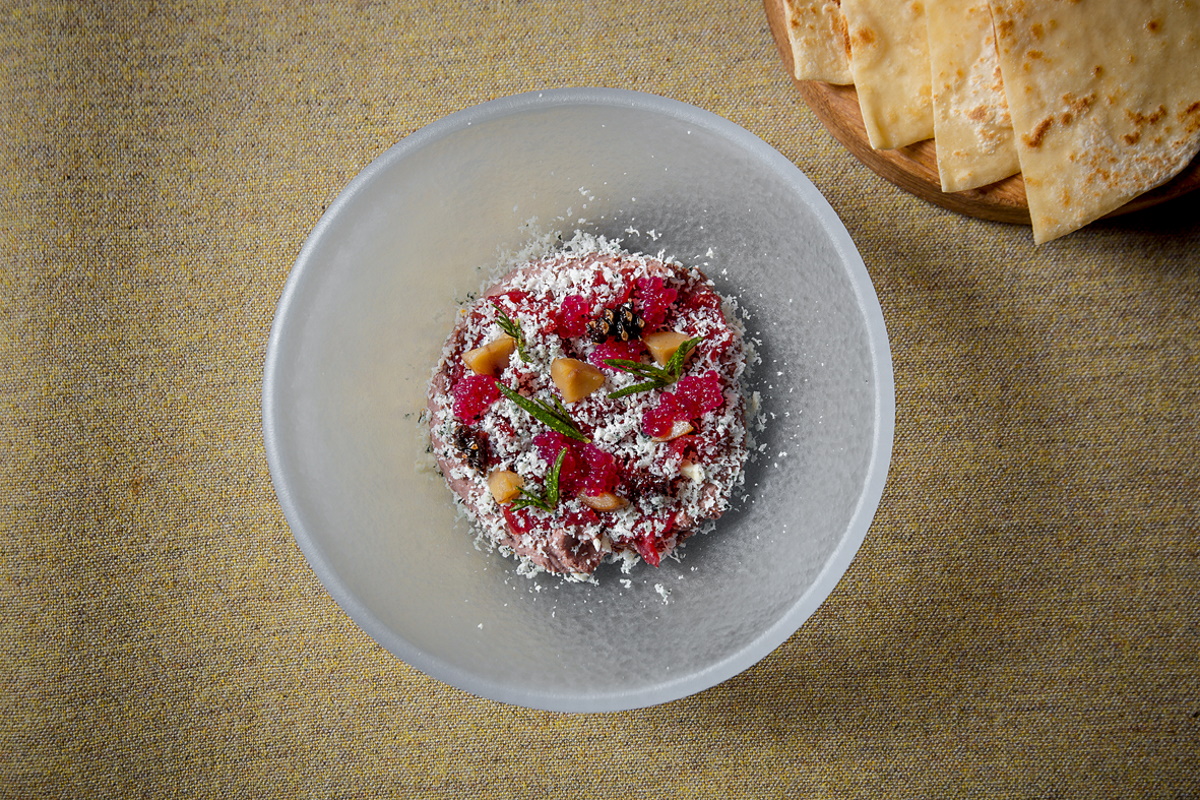 ostrich tartare with chestnuts
I would like to lie that everything was in a fog, but no, I remember everything perfectly. Not the best fried tuna I've ever had, with tons of extra ingredients, from crispy pecum crumble and cashew sauce to chili sticks and apple slices (everything is called "Burned Tuna" and I think it should have really smoked to the taste of what they were dancing the tambourine dances). Fried (oh, this long, long flavor of oil that wraps the mouth) corn tortillas with cabbage and coconut sauce. A disgusting eggplant with eel, the cleverness of which was closed by the ginger sauce, the chili and, as it seems, the ubiquitous onion potatoes. Red cabbage steak in teriyaki sauce with spicy pieces of pear. The halibut under a curry-mayonnaise hat (as meat was once cooked in French) with crispy buckwheat greatly improved my mood with a wonderful curry sauce, I ate it to the last spoon.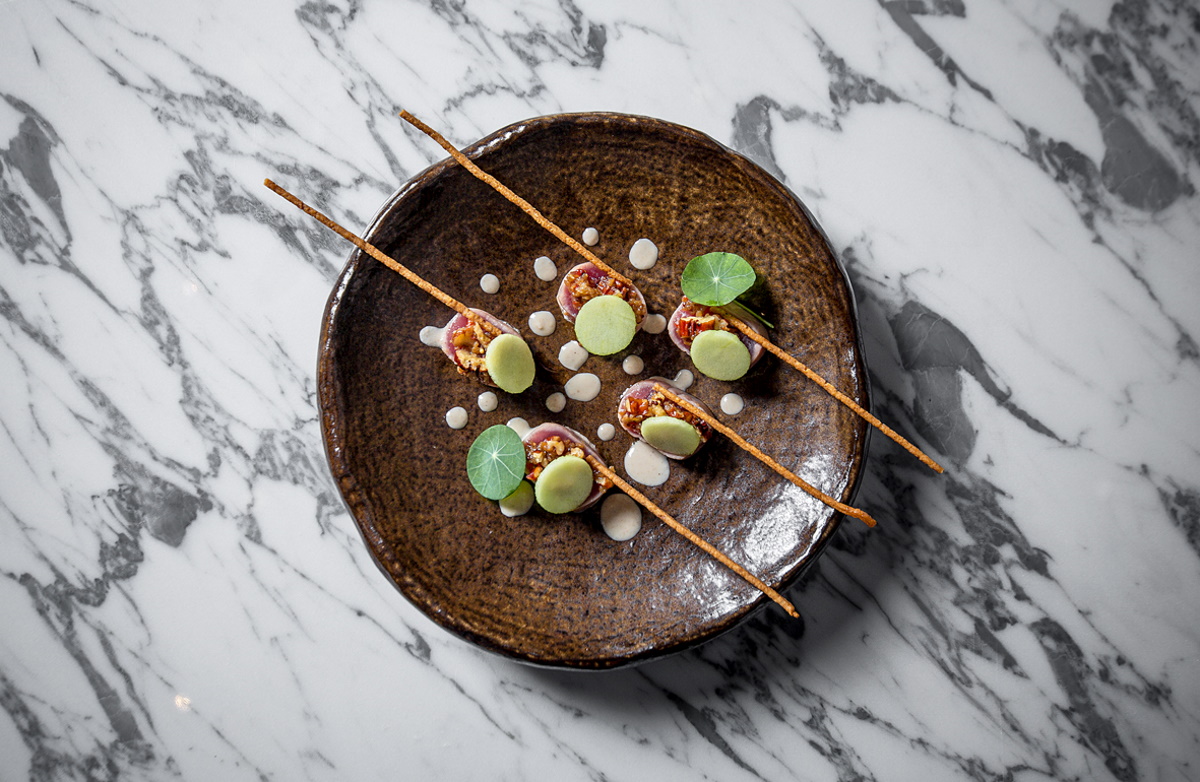 fried tuna
We also tried some risottos: a fake celery root and a real one with peas. Both turned out to be fantasies about a subject and not a real risotto. Too much liquid, too much sauce, no structure, show with great accuracy the "blurred" gastronomic signature of Cape, which has absorbed a lot and is not based on something specific.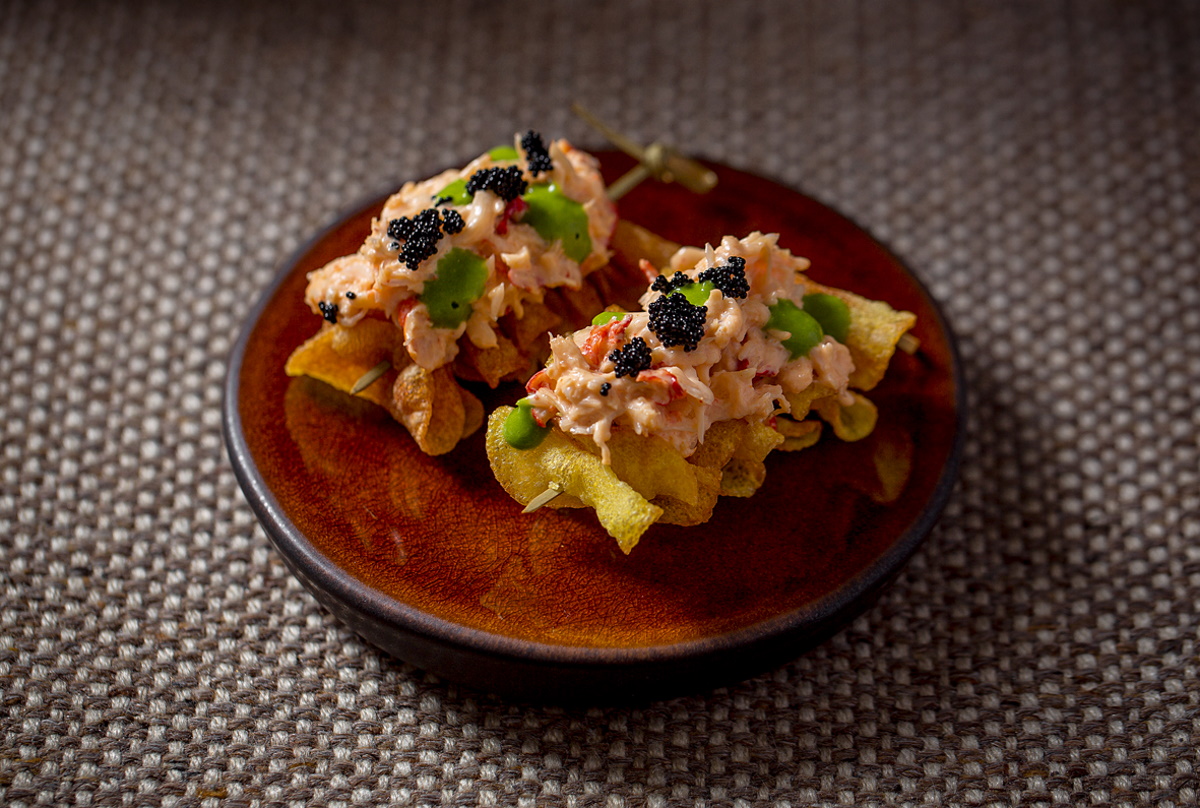 Chips with crab
Did I mention portion sizes? Most of our food was brought in duplicate, otherwise it would not be enough for six. The mediocre size, I think, comes from Tomlin's previous experience. He is a great connoisseur of tapas, "inventive dishes for relaxed conversation", as he calls them. And the plugs are not big. Food is often the subject of discussion in a restaurant, so with unexpected combinations and unusual portions, Cape kills two birds with one stone: it gives us a reason to discuss the contents of the dish and to … order more!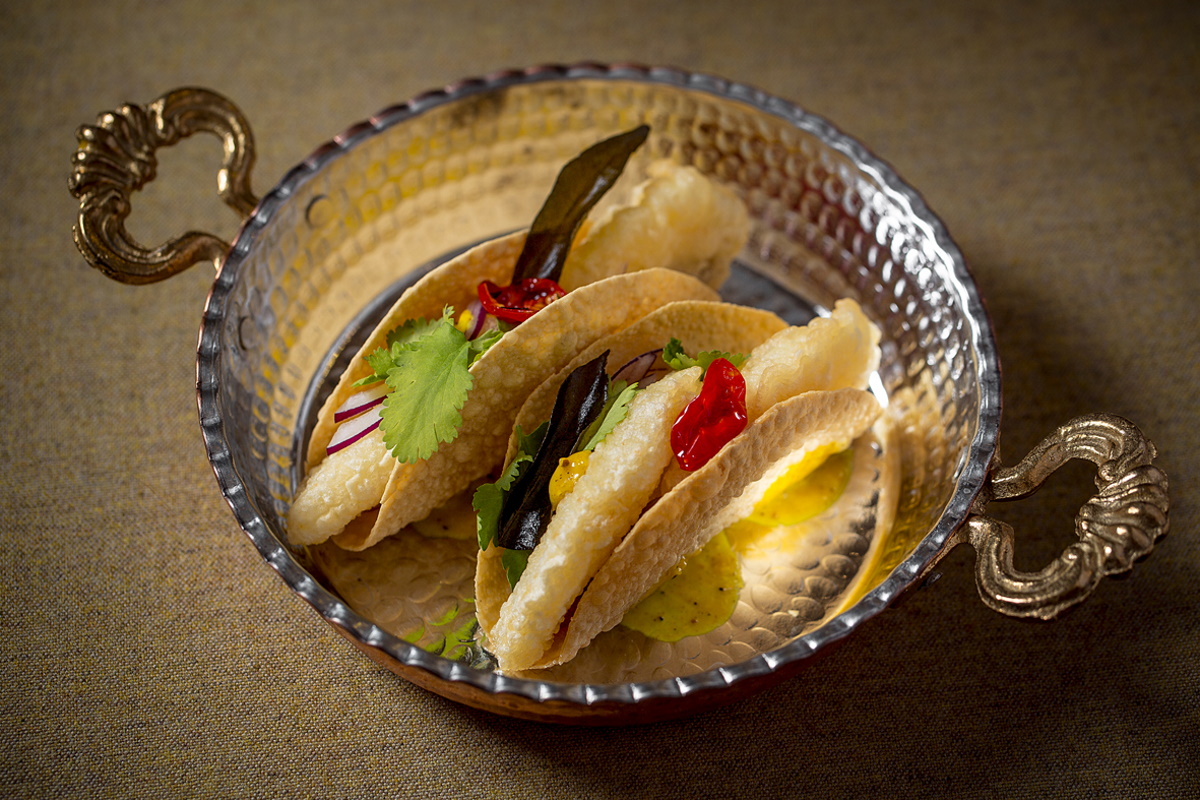 Taco with halibut
At a number of recent restaurant openings in the city, which do not differ much in sterility from a surgery, Cape may seem like a breath of fresh air, showing not only its view of non-trivial flavors and combinations, but also its their relevance. The audience in the room is full, everyone is interested in studying the menu and chasing the waiters in the kitchen for extras. And all sorts of stupid questions like "Why make it so complicated?" have not been defined.
The opinion of the author may not coincide with the opinion of the authors
Read also:
Duck Zen: New panoramic restaurant Saiko in White Square
"Like on the Cote d'Azur": the new restaurant "South 22" in Bolshaya Nikitskaya
Iliad murals, Zurab Tsereteli paintings and khatsapuri: why you should go to the beautiful Georgian restaurant Baghebi
Secret bar, Bulgakov apartment and dark room with absinthe: 5 new bars on the map of Moscow
Discounts, gifts, promotions and other news that we need to know first – in our Telegram and Zen.