Less than a month ago, the Joon Chamber restaurant opened in Pyatnitskaya. For both the owner and the chef, this project was a debut in the restaurant business. We explain why Joon is not as simple as it seems.
The Asian restaurant Joon was opened by businessman Kirill Levin – in his youth he worked in the restaurant industry. He then set foot in his own business, setting up an e-commerce company, which he successfully sold last year. He says it's time to move from online to offline and start doing something for the soul. And since Cyril always loved to cook, he decided to open a small restaurant, which he would personally deal with. After studying the market, it became clear that Moscow lacks a middle-class Asian facility: there are either expensive ideological restaurants or cheap street food restaurants. Inspired by the cuisines of Singapore and Hong Kong, we came up with the idea of ​​a comfortable Asia: simple, understandable, for every day. The name also appeared: Joon – a play on words. This is one of the most common Asian names Joon, and a reference to the word junior, meaning small.
A suitable room was found on Pyatnitskaya Street, which Kirill considers quite promising – on the first floor of a two-storey mansion with the possibility of equipping a summer terrace. Under the guidance of designer Gayane Hovhannisyants, a small space was completely transformed in four months. There were white brick walls, colorful armchairs and sofas, neat tables with wooden tops, black and white floor tiles. There are only 25 seats in the hall, plus three in the bar.
Joon restaurant interior
For the position of chef, Kirill was looking for an enthusiastic person who would be interested in experimenting and finding interesting flavor combinations. So, closer to the opening, a chef appeared – Alexander Demkov became him. Hailing from St. Petersburg, Sasha moved to Moscow five years ago and all these years worked as a sushi chef on top Asian projects Cutfish and Lila Asia. During the work month, many studies were done, but the menu is constantly updated and the team is not going to stop: they want all visitors, including conservatives, to appreciate the author's cuisine. Listen carefully to the comments of regular visitors. Thanks to their wishes, the soup section has expanded significantly: now Joon offers both delicate miso with oyster and crab mushrooms, and rich pork ramen broth with udon noodles with marinated eggs. Guests are advised to eat dishes in a specific order: from light to denser and saturated. So, in the appetizers section, they suggest switching from a seafood-flavored seabass to a more "umam" salad with smoked salmon seasoned with laoganma, a spicy Chinese black soy sauce.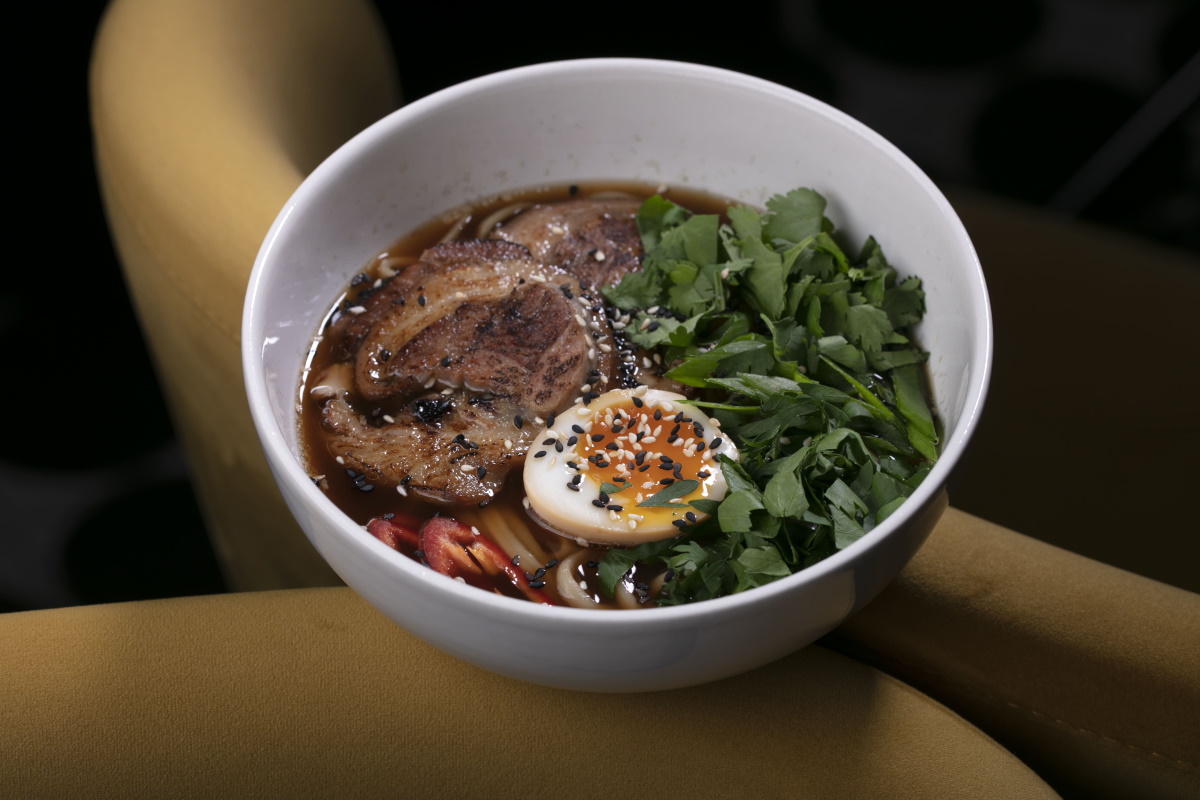 Ramen with pork roll and udon noodles, 550 grated.
There is also a special section in the menu. On a charcoal grill, they cook kushiyaki – kebabs and meatballs, and bao buns of unexpectedly square shape, which are made by themselves and for which they make non-trivial fillings, are also considered specialties: there is eel with stratsiatella and cucumber, cucumber or cucumber katsu chicken with cabbage and spicy mayonnaise. The dishes are very gastronomic on the main course: there is duck breast with tonkatsu cherry, miso-glassed cabbage steak with coconut sauce and beef cheeks with rice and egg.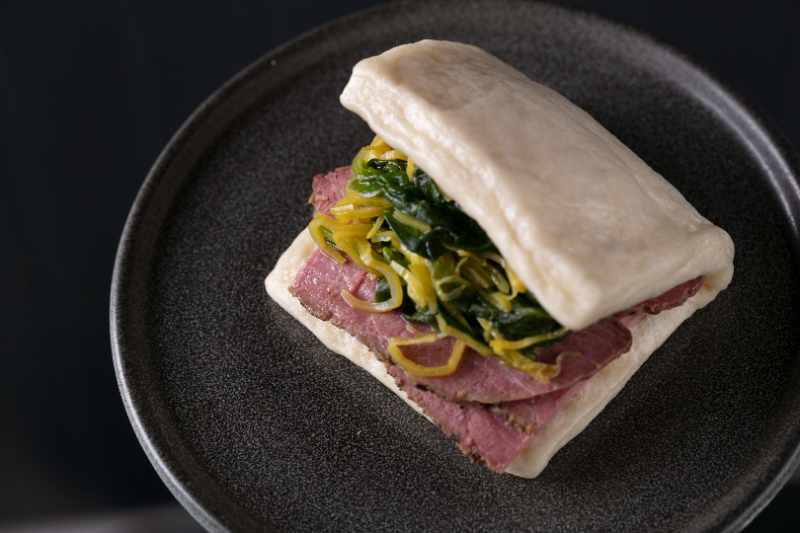 Bao with pastrami, kimchi and aioli with black garlic, 450 r.
The chef uses Asian sauces and spices, but most products are Russian-made. Even pak choi is grown on a farm near Moscow. Sasha is passionate about fermentation, although the scale of the kitchen does not allow her to fully expand and she makes kimchi from Beijing cabbage with spinach, leek, wasabi and Japanese vinegar.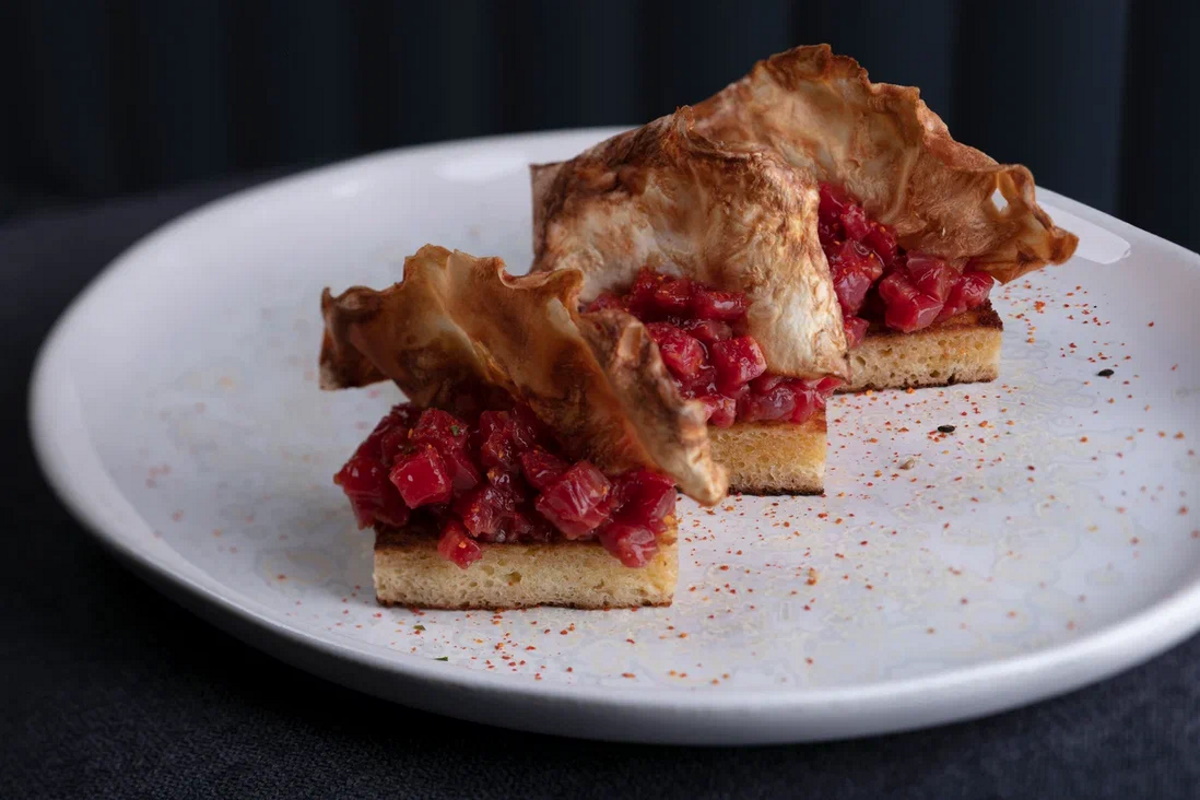 Beef tartare with Thai ketchup and celery chips, 700 rub.
A compact wine list compiled by sommelier Vlada Lesnichenko, containing about 40 species most suitable for Asian dishes. In addition, the emphasis is on sparkling: from non-alcoholic Austrian to dessert from Piedmont.
The cocktail menu also includes classic mixes like French 75 or Negroni, but it's worth paying attention to the signature collection from eight author cocktails, called as numbers in Japanese: Hitotsu, Futatsu, Mitsu and so on up to Yatsu. The cocktails are made on the basis of branded tinctures: at Joon insist the baijiu on the honeycombs, the aperol on the chili peppers, the rum on the fried pineapples and the tequila on the tonka beans. Even the non-alcoholic cocktails here are Asian-inspired. Lovers of pure alcohol will be offered sake, sojou and baiji.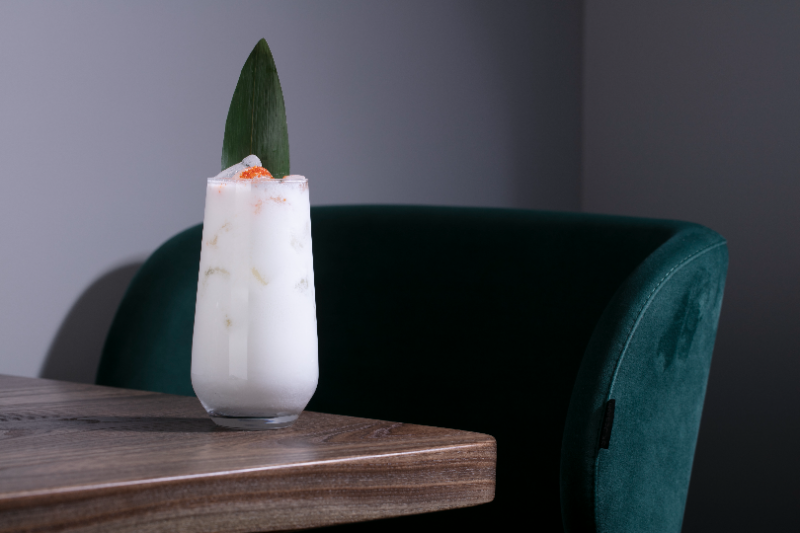 Non-alcoholic cocktail "Coconut-lemonade"
Discounts, gifts, promotions and other news that we should know first – in our Telegram and Zen.