The off-road race "Ladoga Trophy", controlled by the Ministry of Natural Resources of Karelia and the environment prosecutor, ended with a serious collision.
Ladoga Trophy competitions are one of the most famous in the Russian jeep community, held for more than 20 years. They are partly carried out in the Leningrad region, partly in Karelia. The route runs around Lake Ladoga. This year the competition took place from 4 to 12 June. The event was agreed with the authorities and was considered a kind of sports brand of Karelia.
However, this time there was a very serious incident, which turned into a scandal and control by the Ministry of Natural Resources of Karelia. It already happened in the second part of the trophy on the Uksa esker ridge in the Pitkyaranta area of ​​Karelia. This ridge is a beautiful place and belongs to specially protected natural areas (SPNA). But, as it turns out, not all.
About bestiality and vandalism
Claims against the jeeps were raised by a local activist Tatiana Grigorieva, who represents the Obereg Local Traditions Club, and also leads her own tourist groups to this natural monument. On June 8, he published a moving post.

Today I reached the Uksinskaya ozovaya ridge and there the Ladoga-Trophy rally was in full swing. Off-road vehicles of different calibers invade a natural monument of regional importance – turning trees, stones, kneading moss and lichens into porridge […]. My mood plummeted. There are no words, only emotions. What do the organizers of such events think? How can you be so vandalistic? Are you ready to turn everything upside down for your own pleasure? she wrote.
She also said that after her arrival, "the cars quickly disintegrated, leaving behind ugly grooves, torn stones and fallen trees." He called what happened disgusting.


It is clear that Tatyana was supported by many users. The post received many reposts. He was reported by some Karelian media, which published the news about jeeps that are destroying protected areas. Serious disturbance ensued and as a result, an inspection by the Ministry of Natural Resources, Forestry and Protected Areas was moved to the spot.
It's not very right
Later, however, it turned out that the fights did not take place at all in a specially protected area, but on its borders. The author of the scandalous post herself admitted it in another post.
– The Ministry of Natural Resources and the Directorate of Protected Areas reacted with space speed, yesterday an inspection was carried out at the site. We are waiting for official information. In advance, I can say one thing – the most beautiful part of Uksinsky oz – Lake Loukhijärvi – is not part of the protected area. These are some weird borders. But that does not change the substance of the matter. Violations are still being corrected, – said Tatiana Grigorieva.


Today, June 17, the Karelian Ministry of Natural Resources reported that inspectors had indeed uncovered violations near the Uksa esker ridge. And they said which ones.
As a result, it was found that the path from the cars was left on the territory of the state forest fund – on the territory of the Kesnyaselgsky forest, not within the boundaries of the specially protected natural area "Uskinskaya ozovaya ridge", the department said.
Also, the Ministry of Natural Resources stated that the department forwarded material for violations to the Interregional Environmental Prosecutor's Office of Karelia for identification and identification of the perpetrators.


The Ministry of Natural Resources of Karelia added to the Karelia.News portal that at present the controls are prohibited due to the difficult situation in the country and this fact is not dealt with substantially by itself, but by the environmental prosecutor. The department declined to comment further, although they promised to call again.
Photos of violations (not in protected areas) show the same traces. It is difficult to say from them that the jeeps "turned" something there and mutilated it.

Jeeps are a problem
However, the well-known photographer Igor Podgorny, who has experience in the environmental organization Greenpeace and has photographed the beauties of this place more than once, does not agree that these are just traces.
The traces are understandable. What about violating federal law? asked Minprioda. In particular, the article of the Water Code which stipulates that any movement of cars off asphalt roads in the water protection zone is a violation, with the exception of their movement on roads and parking on roads and in specially equipped areas with hard surfaces.

"Despite the fact that the competitions were not held in the territory of protected areas, I think they have no place on the Uksa esker ridge", the photographer is sure. – This is a beautiful place that can become one of Karelia's tourism brands, which is so often talked about by the democratic leadership. I think Tatyana Grigorieva is absolutely right when she raises this issue. I'm not against sports. I am against the destruction of the nature of Karelia for the sake of a commercial event, organized by the inhabitants of the neighboring area. Breaking trees, destroying mosses, driving in water and polluting it with oil and gasoline are unacceptable not only in protected areas. Doing it for fun is doubly unacceptable. If the essence of this kind of sport is the technical overcoming of difficulties, I am sure that these difficulties can be created without driving in unique natural areas.

The photographer and ecologist believes that it is necessary to study the world experience and, perhaps, to allocate special spaces for such games – flooded quarries, low-value forest areas.

"Our cars will soon be impossible to leave the yard"
Competitors, jeeps, have a different position. They are very offended that they were made vandals who do not care about nature. Besides, there were initially accusations that they passed through a specially protected area, something that was not confirmed.
The portal "Karelia.News" spoke with one of the regular participants in the "Ladoga Trophy", the famous Karelian jeep Sergey Kirillovsky. Thanks to him, brands such as the Girvas Festival, the Onega Ring Mission and the Aviator Jeep Club, which spread not only motor sports in Karelia, but also snowmobile and ATV rides, have been created in Karelia, are well known beyond From the border of Russia.
For more than 20 years of its existence, the organizers of the Ladoga Trophy have developed very serious environmental rules, – says Kirillovsky. – You can not make fires, you can not service the car until you put a banner on the ground so that not a drop of oil is spilled. The cost of participation is high, but you can easily withdraw from the competition for such violations. In addition, you pay 20,000 rubles environmental tax. And if there is even a small violation, you deprive it. You have no right to break trees. You can step on a bush or a weed, but breaking a tree is unacceptable. That's why they withdrew from the competition.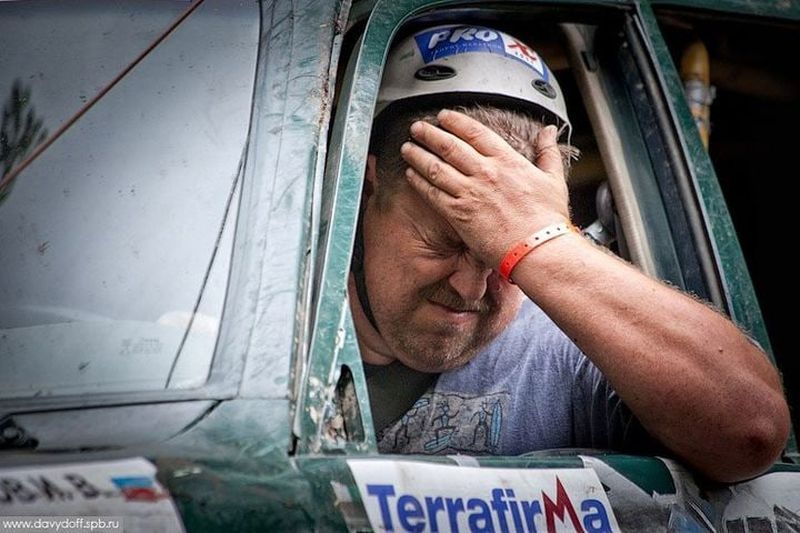 As for these races, in which the Aviator team also participated, then, according to Kirillovsky, the races were agreed with both the forest department and the administration.
I think all this hype is an organized action. Maybe people here have their own interests, because they bring tourists here. But we have experienced this again. We once had a very nice beach-dune race in the Olonets area near Vidlitsa. There are not even trees. But they started falling on jeeps that harm nature. The fight is over. And now there is "Point on the Map" glamping, ATV rental. And for some reason, their technology no longer harms nature. And there they moor boats with gasoline engines, which, for some reason, also do not harm the environment. But why not drive through this sand for people in cars? What's wrong? I admit that here on the Uksinsky ridge, there may be a similar story, because now such areas are being commercialized.
Sergei Kirilovsky believes that it is short-sighted and strange to put the responsibility for environmental problems on the jeeps. And such events, on the contrary, must be developed and supported, because they become Karelia brands.
Each event must be approached separately. Involve the administration, foresters. We do not drive for fun. We promote motorsport in Karelia and also arrange big holidays for people. Spectators come to see unusually prepared cars. It turns out to be a real show. "And at the same time, we are no less interested in nature conservation," says Kirillovsky.

According to him, he personally removes the garbage from the forest with a trailer. Much has been left by fishermen and tourists.
There is also a lot of dirt after the foresters: canisters, solarium barrels, oils. The rails are many times longer and the grooves are deeper than in our cars. Have you seen the roads of logging? I am already silent about the forest cut to the root. And for some reason they are developing the economy, and we are vandals. Nothing will happen if people drive carefully on a pre-planned route. We do not need to stifle motorsport, we do not need to stifle this direction of tourism. We are already surrounded on all sides by bans. The legalization of our cars is a whole story. Body kit, wheels, many prohibitions. It will soon be impossible to leave the yard in such cars – you will immediately become an offender.
By the way, we have already written that Sergei Kirilovsky canceled the popular Girvas festival this year, among other things due to existing bans.
By the author
The author of this text has repeatedly taken part in jeep tours in the forests of Karelia. We always took out the garbage, tidied up our camps, left the forest clean, took care of nature. No oil or gasoline was spilled. And the winches only stuck to strong trees.
I will not talk about emotions, but these were some of the best moments in my life. And, without a doubt, this direction for tourists is of great interest, it must be developed and supported.
At one time, bans, mediocre laws and indifference ruined legal salmon fishing on Lake Onega, although an entire infrastructure was created for it. Now this direction has been destroyed or has gone into the shadows. But this is employment, taxes, tourist flows.


I would not like the same to happen with jeep tourism. Off-road missions and jeep races are very popular all over the world. That's how it should be with us. I think there is nothing terrible about nature in the tracks left by the jeep, unless, of course, it is a nature reserve or national park. Karelia is not only a country of lakes and rivers, but also of bad roads, and they can be used properly. And you can not save every flower, tree or shrub in the forest.
One can agree with Igor Podgorny. This part of the Uksinsky ridge is beautiful and there is no room for cars here. But in this case, it should be recognized as a specially protected area.


Jeeper Sergei Kirilovsky is also right – each event must be approached separately and try to move forward with joint efforts. In the meantime, as we see, the policy of bans and fines wins and not the search for a solution that is beneficial to all.
photo by Igor Podgorny and the local history association "Obereg"